Tablets for Dogs and Cats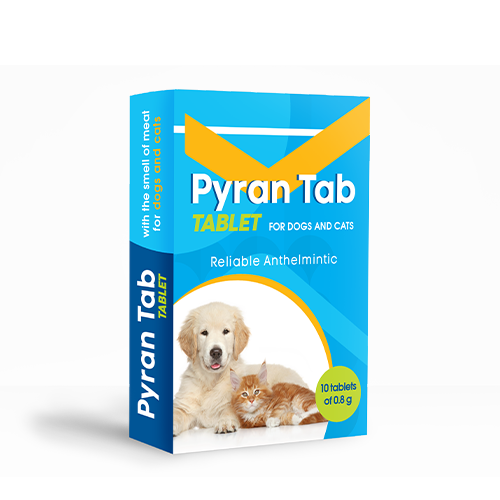 DESCRIPTION:
Cylindrical tablets with a flat surface, a dash and beveled, from white to yellow color with a specific smell
COMPOSITION:
1 tablet (0.8 g) contains active ingredients:
praziquantel – 50 mg;
Pyrantel pamoate (embonate) – 150 mg.
PHARMACOLOGICAL CHARACTERISTICS:
Praziquantel is active against tapeworms as cestodes and trematodes. Pyrantel pamoate (embonate) is active against round worms, nematodes. In the carnivores, this drug is effective in case of cestodiasis: echinococcosis (mature forms Echinococcus granulosus), taeniasis (Taenia multiceps, Taenia hydatigena,T.ovis, T.pisiformis, Hydatigena taeniaeformis), dipylidiosis (Dipylidium caninum – young and mature forms), diphyllobothriasis (Diphyllobothrium latum); in case of distomiasi (Opisthorchis felineus); in case of nematodosis of dogs and cats: toxocariasis (Toxocara canis, Toxocara cati), toxascaridosis (Toxascaris leonina), trichocephaliasis (Trichuris spp.), ancylostomiasis (Ancylostoma caninum), uncinariasis (Uncinaria stenocephala), dirofilariasis (Dirofilaria repens, D. immitis).
The mechanism of action of praziquantel lies in inhibition of fumarate reductase synthesis on the membranes of myofibrils and neuromuscular synapses, resulting in paralysis and death of helminths Pyrantel blocks neuromuscular transmission by depolarization in the sensitive parasites, causing paralysis. The substance has nicotinic properties, acts like acetylcholine inhibits cholinesterase.
The anti-drug effect caused by a combination of components that exhibit synergistic effects on adult and larval forms of flat and round worms.
APPLICATION:
Therapeutic and prophylactic deworming of dogs and cats with cestodes, trematodes, nematodes lesions.
DOSAGE:
Orally with food once or directly to the root of the tongue before feeding.
The doses given in the table below
Deworming is recommended quarterly (4 times a year).
Puppies and kittens are recommended to deworm from a month old age.
| | |
| --- | --- |
| BODY WEIGHTOF ANIMALS, KG | DOSE,TABLETS |
| DOGS BEFORE 2 | 1/4 |
| DOGS 2-5 | 1/2 |
| DOGS 5-10 | 1 |
| DOGS 10-20 | 2 |
| DOGS 20-30 | 3 |
| DOGS 30-40 | 4 |
| DOGS 40-50 | 5 |
| CAT | 1/2 |
| KITTENS | 1/4 |
CONTRAINDICATIONS:
Do not use the drug to animals in the first half of pregnancy.
PACKAGING:
Blister packing of 10, 30, 100 tablets packed in cardboard boxes.
PRECAUTIONS:
In some cases, diarrhea, hypersalivation, vomiting is slightly possible and disappears independently
STORAGE:
Dry, dark, well-ventilated building (moisture content up to 75%) at a temperature from 2°C to 25°C.
Keep away from food and animal feed.
FOR VETERINARY USE ONLY!