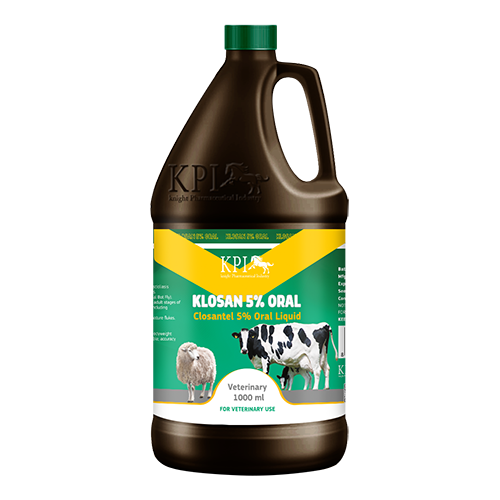 COMPOSITION:
Each ml contains:
Closantel 50 mg
Aqueous Base qs
INDICATIONS:
1. For the control of chronic and subacute fascioliasis (due to Fasciola hepatica) in sheep and lambs.
2. For the control of Oestrus ovis (Sheep Nasal Bot Fly).
3. For the control of inhibited, immature and adult stages of Haemonchus contortus (Barber Pole Worm) including benzimidazole resistant strains.
Klosan 5% is active against mature and immature flukes.
DOSAGE AND ADMINISTRATION:
1 ml of Klosan 5% per 5 kg body weight.
To ensure administration of a correct dose, body weight should be determined as accurately as possible; the accuracy of the dosing device should be checked.
Give orally as a drench.
WITHDRAWAL PERIOD:
For Meat: 42 days
STORAGE:
Store below 25°C in dry place, Protect from direct sunlight.
FOR VETERINARY USE ONLY!