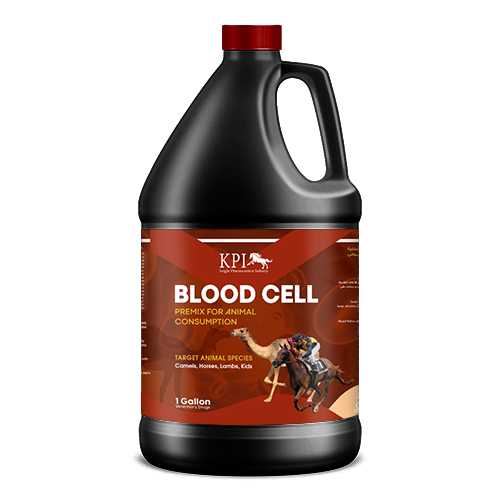 DESCRIPTION:
is palatable Vitamin& minerals feed supplements for horses and camel, used to supplements the insufficient quantities of Vitamin and Minerals in the regular feed, in addition, to be rich in Iron.
FEEDING DIRECTIONS:
1-Horses in training: Feed 2 fluid ounces of Blood Cell daily.
Horses not in training: Feed 1 fluid ounce of Blood Cell daily.
How to use Blood Cell:
Mix the Blood Cell daily into the feed ration or orally with a dose syringe.
IMPORTANT:
Selenium dosage in the ration should not exceed 0.3 ppm.
STORAGE:
In a dry, cool place, not freezing. Shake well before using. Close container after each use.
CAUTION:
Feeding higher levels of this premix containing selenium is not permitted.
Store in an inaccessible area to children and animals.
Excessive amounts of selenium may be toxic.
This product should not be fed to copper sensitive animals, such as sheep.
Each Fluid Ounce Lb. Contains:
Per LB Per 1 fl.oz
(453.6 g) (29.6 g)
Calcium,min 0.055% 17 mg
Magnesium, min 0.06% 20 mg
Potassium, min 0.31% 100 mg
Sulfur, min 0.78% 250 mg
Copper, min 1,100 ppm 36 mg
Selenium, min 20 ppm 650 mcg
Zinc, min 340 ppm 11 mg
Iron, min 9,400 ppm 300 mg
Cobalt, min 60 ppm 2 mg
Manganese, min 1,200 ppm 39 mg
Iodine, min. 8 ppm 0.3 mg
Vitamin A, min 100,000 I.U. 7000 I.U.
Vitamin D-3, min 40,000 I.U. 2800 I.U.
Vitamin E, min 500 I.U. 35 I.U.
Vitamin B-12, min. 1,680 mcg 120 mcg
Thiamine, min. 428 mg 30 mg
Riboflavin, min 356 mg 25 mg
Vitamin B-6, min. 114 mg 8 mg
Menadione, min. 35 mg 2.5 mg
Folic Acid, min. 100 mg 7 mg
Biotin, min. 0.285 mg 0.1 mg
Choline, min 2,855 mg 200 mg
INGREDIENTS:
Water, Ferric Sulfate Heptahydrate, Ammonium Hydroxide, Xanthan Gum, Choline Chloride, Sorbitol, Magnesium Sulfate, Propionic Acid, Potassium Chloride, Sodium Bicarbonate, Sodium Saccharin, Artificial Flavor, Yucca Root Extract, Copper Sulfate, Calcium Ascorbate, Manganese Sulfate, Kelp, Citric Acid(a preservative),N-propyl Alcohol, Potassium Sorbate (a preservative), Calcium Pantothenate, Thiamine HCL, Zinc Sulfate, D-Alpha-Tocopheryl Succinate, Riboflavin, Vitamin A Acetate, Pyridoxine HCL, Menadione Sodium Bisulfate Complex(Vitamin K3), Folic Acid, Vitamin D-3(as Cholecalciferol), Cobalt Carbonate, Sodium Selenite, Potassium Iodide, Cyanocobalamin(Vitamin B12), Biotin, Vitamin E supplement(as D-Alpha Tocopherol), Vitamin B-12 Supplement.
FOR VETERINARY USE ONLY!