Solution for Injection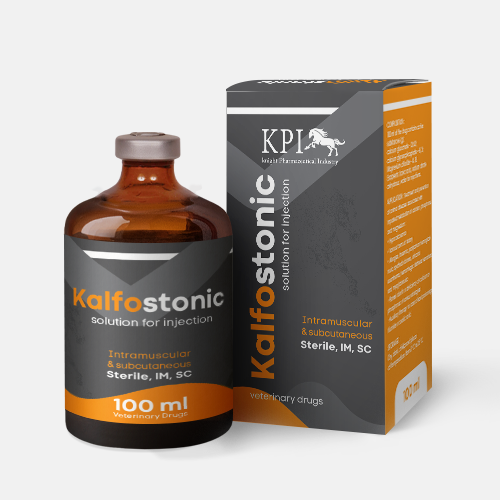 DESCRIPTION:
Transparent pale yellow solution.
COMPOSITION:
100 ml of the drug contains active substances (g):
Calcium gluconate – 32.82;
Calcium glycerophosphate – 8,13;
Magnesium chloride – 4.18.
Excipients: up to 100 ml.
PHARMACOLOGICAL CHARACTERISTICS.
Calcium is an important mineral that forms crystals of hydroxyapatite in bones, giving them strength. Calcium ions regulate the permeability of biological membranes, providing neuromuscular conduction.
The deficiency of calcium and tissue fluids increases the excitability of nerve nodes, which can lead to tetany. In addition, calcium effects on the colloidal condition of proteins by reducing their dispersion, which reduces the permeability of blood vessels.
Calcium stimulates the cardiovascular system and, in case of intravenous injection, sympathetic part of the autonomic nervous system, increasing the release of adrenaline; present in the blood coagulation Phosphorus together with calcium affects the development of bones and teeth. It is a part of phospholipids, Phosphoprotein, nucleic acids, and many coenzymes.
Inorganic primary and secondary phosphates effect on support of acid-base balance, play an important role in the metabolism of carbohydrates. Adenosine triphosphate is involved in the accumulation and transformation of energy in the body.
Magnesium is an important intracellular ion required for the activation of many enzymes, including those involved in maintaining zero energy in the form of phosphate compounds. Magnesium regulates the release of acetylcholine from motor final bars, affects on muscle excitability.
APPLICATION:
Treatment and prevention of animal diseases associated with impaired metabolism of calcium, phosphorus, and magnesium:
•Hypocalcaemia (postpartum paresis, rickets of young animals, osteomalacia of older animals);
•Various forms of tetany (transport and pasture tetany, tetany during pregnancy and lactation);
•Allergies, toxemia, postpartum hemoglobinuria, spotted sickness, urticaria, exanthema, hemorrhagic diathesis, hematuria, and myoglobinuria;
•Paresis due to a deficiency of calcium or phosphorus of various etiologies;
•Auxiliary therapy in case of lead poisonings, fluoride or oxalic acid.
DOSAGE:
The drug is injected intravenously, intramuscularly, or subcutaneously at doses given in the table.
If necessary, the drug is injected again at the same doses after 24 hours.
| | | |
| --- | --- | --- |
| TYPE OF ANIMAL | DOSE OF THE DRUG (ML) | METHOD OF INJECTION |
| HORSE BW 500 KG | 80-100 | INTRAVENOUSLY, (IV) |
| CATTLE BW 500 KG | 80-100 | INTRAVENOUSLY, INTRAMUSCULARLY OR SUB- CUTANEOUSLY, (IV, IM or SC) |
| SHEEP, GOATS | 15-25 | INTRAVENOUSLY, INTRAMUSCULARLY OR SUB- CUTANEOUSLY,(IV, IM or SC) |
| PIGS | 15-25 | INTRAVENOUSLY, INTRAMUSCULARLY OR SUB- CUTANEOUSLY,(IV, IM or SC) |
| PIGLETS | 2-3 | INTRAMUSCULARLY OR SUBCUTANEOUSLY (IM or SC) |
PRECAUTIONS:
In one place intramuscularly or subcutaneously can not be injected more than 50 ml of the drug.
With particular care apply to animals with heart and kidney diseases.
Intravenous injection should be done slowly to avoid arrhythmias and cardiac blockade!
In the case of intramuscular or subcutaneous injection, this risk is much smaller.
Do not use simultaneously with digitalis drugs, as it may cause violation of cardiac function or blockade.
Concomitant use of calcium and vitamin D or its analogues can cause hypercalcemia.
WITHDRAWAL:
During drug treatment, meat and milk of animals may be freely used in food by people.
CONTRAINDICATIONS:
Hypercalcemia, acidosis, renal failure, excessive nervous excitation, ventricular fibrillation, hypersensitivity to any component of the drug.
PACKAGING :
Glass bottles 100 and 250 ml.
STORAGE:
Dark, inaccessible for children place at a temperature from 5°C to 25°C.
The drug good to use in the first 28 days of use.
FOR VETERINARY USE ONLY!