Powder from Ectoparasites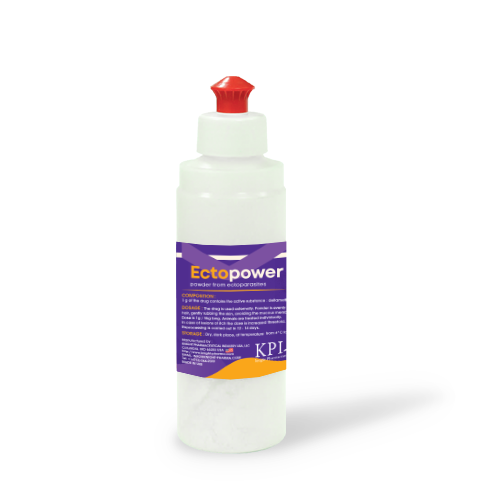 DESCRIPTION :
Finely divided white powder with a grayish tint, odorless, for external use.
COMPOSITION :
1 g of the drug contains the active substance:
Deltamethrin – 0.5 mg .
PHARMACOLOGICAL CHARACTERISTICS :
Deltamethrin (active substance of the drug) – synthetic pyrethroid that blocks the transmission of nerve impulses with ganglion peripheral nerves, causing paralysis and death of parasites. Moderately toxic to warm-blooded animals.
APPLICATION :
Treatment and prevention of cattle, horses, sheep, goats, pigs, dogs, cats, and birds from diseases caused by ectoparasites:
Cattle:
acariformes (Psoroptes bovis, Sarcoptes bovis, Chorioptes bovis, Demodex bovis);
lice (Bovicola bovis);
lice (Haematopinus eurysternus, Linognathus vituli).
acariformes (Psoroptes ovis, Sarcoptes ovis, S. caprae, Chorioptes ovis, Ch. caprae);
lice (Bovicola ovis, B. caprae);
lice (Linognathus ovilus, L. pedalis, L. caprae).
acariformes (Sarcoptes suis, Demodex phylloides);
lice (Haematopinus suis).
Horses:
acariformes (Psoroptes equi, Sarcoptes equi, Chorioptes equi);
lice (Bovicola equi);
lice (Haematopinus asini).
Dogs, cats:
acariformes (Sarcoptes canis, Notoedres cati, Othodectes cynotis, Demodex canis, Cheyletiella jascuri, Ch. blakei);
fleas (Ctenocephalides canis, Ct. felis);
lice (Trichodectes canis);
lice (Linognathus setosus).
acariformes (Knemidocoptes mutans, K. gallinae, K. pilae);
plumage lice, bird-lice (Menopon gallinae, Menacanthus stramineus, Lipeurus caponis, Goniodes hologaster).
DOSAGE :
The drug is used externally, Animals are treated individually.
The powder is evenly sprayed on hair, gently rubbing the skin, avoiding the mucous membranes.
The dose is 1 g per 5 kg of body weight.
In the case of lesions of itch, the dose is increased threefold.
Reprocessing is carried out in 12-14 days.
Dose for poultry is 1-5 grams per head.
Process poultry individually or by the group method, mixing the powder in the sand, where poultry "bathe".
CONTRAINDICATIONS :
Do not use for sick, exhausted, and debilitated animals.
Do not use for animals during lactation and pregnancy.
PRECAUTIONS :
Slaughter of animals for meat is allowed after 20 days from the last treatment.
In case of the emergency slaughter of animals, meat can be used to feed carnivorous animals or for the production of meat and bone flour.
The staff in the processing of animals is required to use personal protective equipment (respirator, rubber gloves, goggles).
In case of accidental the drug getting on the skin or mucous membranes, it should be immediately washed off with water.
After use wash your hands thoroughly with soap and water.
The product is toxic to bees and fish.
Do not allow getting the drug into the water.
STORAGE :
The drug is stored in a dry, dark place inaccessible to children at a temperature from 4°C to 25°C.
Do not store together with food and animal feeds.
FOR VETERINARY USE ONLY!