Powder for Oral Use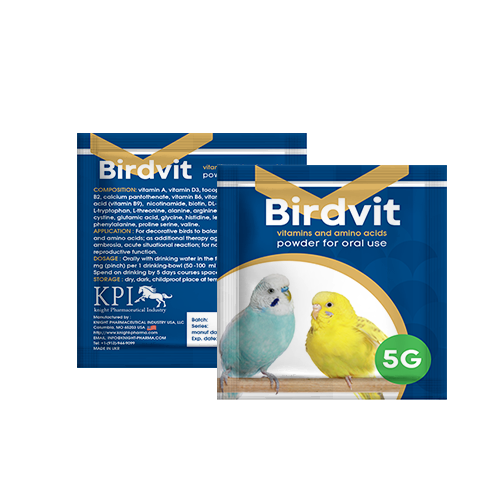 COMPOSITION :
Vitamin A, vitamin D3, α- tocopherol, vitamin B1, vitamin B2, calcium pantothenate, vitamin B6, vitamin C, vitamin K3, folic acid, nicotinamide, biotin, DL- methionine, L- lysine, L- tryptophan, L- threonine, alanine, arginine, aspartic acid, cystine, glutamic acid, glycine, histidine, leucine, isoleucine, phenylalanine, proline, serine, valin.
APPLICATION :
The medicine is used for decorative birds to replenish the body balance of vitamins and amino acids; and as an additional therapy for anorexia, anemia, exhaustion, stress, to normalize reproductive functions.
DOSAGE.
Oral with drinking water at a dose of 100-200 mg (pinch) 1 drinker (50-100 ml of water) once a day.
Water the additive by courses for 5 days with an interval of 5 days.
PACKAGING:
Polyethylene or metalized packages 5 g
STORAGE :
Store in dry, dark, out of children's reach at the temperature from 5°C till 25°C.
FOR VETERINARY USE ONLY!