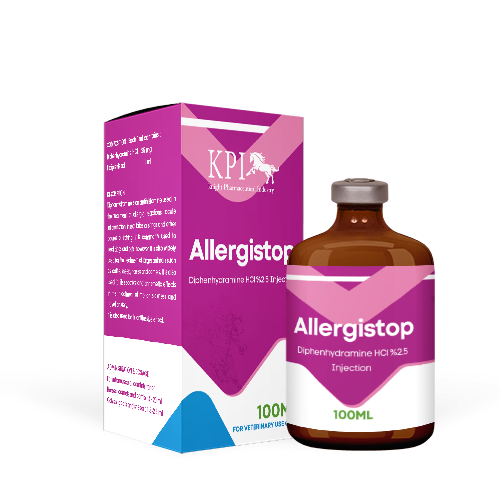 COMPOSITION :
Each ml contains:
Diphenhydramine HCL……………………………………………………………………………………………………. 25 mg
Excipients ad……………………………………………………………………………………………………………………………….. 1 ml
DESCRIPTION :
Diphenhydramine is an antihistamine used in the treatment of allergic reactions, acute inflammation, insect bites or stings and other causes of itching. It is commonly used to treat dogs and cats: however, it is also widely used for the treatment of larger animals such as cattle, sheep, horses and camels. It is also used for its sedative and antiemetic effects in the treatment of motion sickness and travel anxiety. lt is also used for its antitussive effect.
DOSAGE & ADMINISTRATION :
For intramuscular administration:
Horses, camels and cattle: 4-20 ml Calves, goats and sheep: 1.5-2.5 ml
SIDE EFFECTS :
The medication is not to be used in animals that are allergic antihistamines. It is not to be used in animals with glaucoma, prostate disease urinary obstruction, and high blood pressure. Side effects include drowsiness, dry mouth and urinary retention. Rare side effects include: vomiting, diarrhea and decreased appetite. Do not use in pregnant or nursing animals. Inform your veterinarian of what other medications the animal is currently taking.
WITHDRAWAL TIMES :
Milk: 7 days.
Meat: 28 days.
STORAGE:
Store in a cool and dry place, protect from light. Keep out of reach of children .
For veterinary use only