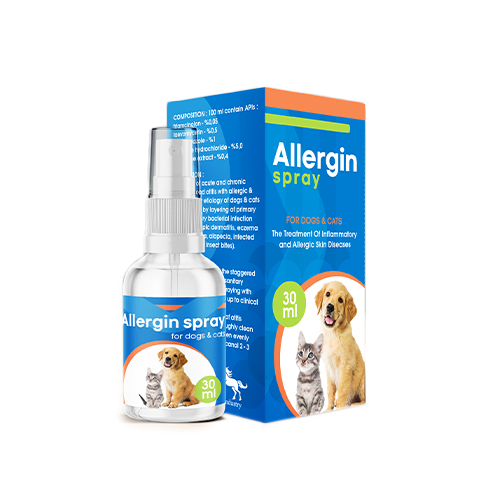 DESCRIPTION:
Slightly opalescent light yellow liquid in the form of a spray.
COMPOSITION:
100 ml of the product contain APIs:
Triamcinolon – 0,05%;
Laevomycetin — 0,5%;
Metronidazole — 1 %;
Lidocaine hydrochloride – 5,0%;
Calendula extract – 0,4%.
CLINICAL PHARMACOLOGY:
Anti-inflammatory action is caused by such glucocorticoids as triamcinolone (polcortolone) and calendula extract, which block the biosynthesis of prostaglandin, a hormone, promoting the development of inflammatory processes. Lidocaine shows an anesthetic effect, promoting the fast reduction of allergic and inflammatory responses.
APPLICATION:
Treatment of acute and chronic allergic and inflammatory dermatitis and otitis of dogs and cats, complicated by overlaying of bacterial primary and secondary infections (urticaria fever, atopic dermatitis, scaly tetter, neurodermatitis disseminata, alopecia, infected dermatitis because of insect stings).
DOSAGE:
Apply on the affected areas after their previous cleaning two times a day, spraying in a thin layer, during 5-10 days till clinical recovery.
During treatment of otitis, carefully clean external auditory passage from scabs, uniformly wet auditory passage 2-3 times a day during 5-7 days.
CONTRAINDICATIONS:
N/A
PRECAUTIONS :
Do not apply to pregnant and lactating animals and in the case of diabetes mellitus and virus diseases.
PACKAGING:
Polyethylene bottles with atomizing jet per 10, 15, 30, 50, 75, and 100 ml, packed into paper boxes.
STORAGE:
Dry, childproof, light-proof place at a temperature from 0°C to 25°C, apart from food products, animal feeds, heating devices, and open fire.