Suspension for Injection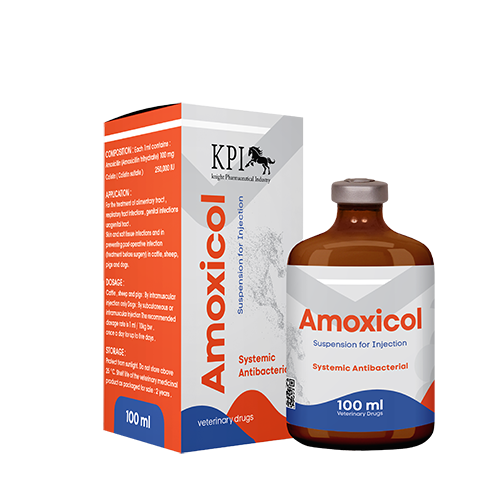 COMPOSITION:
Amoxicillin
( Amoxicillin trihydrate ) 100 mg
Colistin ( Colistin sulfate ) 250,000 IU
APPLICATION:
For the treatment of infection in alimentary tract, respiratory tract, urogenital tract,skin and soft tissues
preventing post-operative infection
(treatment before surgery) in cattle, sheep, pigs and dogs .
DOSAGE:
Cattle , sheep and pigs : By intramuscular injection only Dogs : By subcutaneous or intramuscular injection
The recommended dosage rate is 1 ml / 10kg bw . once a day for up to five days .
WITHDRAWAL TIMES:
Meat and offal : 21 days . Milk : 5 days (10 milkings) .
WARNINGS:
Keep out of the reach of children .
STORAGE:
Protect from sunlight . Do not store above 25 °C.
PACKAGING:
100 ml bottle