Solution for Injection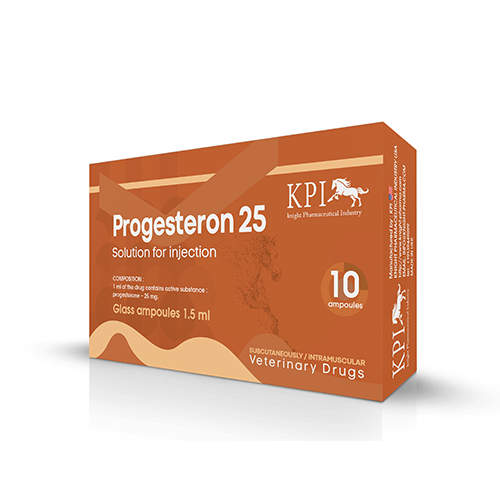 DESCRIPTION:
Clear yellow oily solution
COMPOSITION:
1 ml of the drug contains an active substance:
Progesterone – 25 mg.
CLINICAL PHARMACOLOGY :
The drug has a biological and therapeutic effect on the natural hormone of corpus luteum. Reduces excitability and uterine retraction creates the necessary conditions for fertilization, reduces uterine sensitivity to oxytocin, stimulates the functional activity of the mammary gland.

The drug post-injection is rapidly absorbed from the site of injection and allocated in the organs and tissues of the animals. Metabolize in the liver.
Deduced by the urinary way 50-60% and via feces 10%.
After the degree of influence on an organism, the solution of progesterone behaves to the low-risk substances and has non-irritating action on tissues.
APPLICATION :
The solution of progesterone used on animals to prevent abortion at usual prolapse, to inhibit the estrus. The drug warms up to 37°C before use.
DOSAGE :
injected as Intramuscular or subcutaneous once a day 4-7 days apart.
Dosage in ml per body weight:
Horses – 0,01; Cattle – 0,01; Small livestock – 0,01; Pigs – 0,015; Dogs – 0,002.
CONTRAINDICATIONS :
Not installed.
PRECAUTIONS :
Animal products can be used without limitations during and after application of progesterone solution.
PACKAGING :
Glass ampoules 1; 5 ml and bottles 10 ml enclosed in boxes .
STORAGE :
Dry cool dark place.
FOR VETERINARY USE ONLY!