Solution for Injection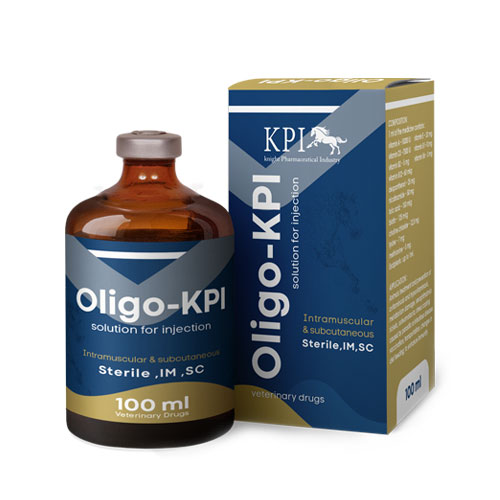 DESCRIPTION:
A clear solution of yellow-brown colour.
COMPOSITION:
1 ml of the medicine contains active substances:
Vitamin A – 15 000 IU;
Vitamin D3 – 7 500 IU;
Vitamin E – 20 mg;
Vitamin B1 – 10 mg;
Vitamin B2 – 5 mg;
Vitamin B6 – 3 mg;
Vitamin B12 – 60 μg;
Dexpanthenol – 25 mg;
Nicotinamide – 50 mg;
Folic acid – 150 μg;
Biotin – 125 μg;
Choline chloride – 12,5 mg;
Lysine – 7 mg;
Methionine – 5 mg.
Excipients: up to 1ml.
PHARMACOLOGICAL CHARACTERISTICS:
The medicine has total pharmacological properties. The individual components used to contribute to the normalization of metabolism, increase its resistance, positively influence on productivity, safety, and reproductive functions of animals.
APPLICATION:
Animals treatment and prevention of avitaminosis and hypovitaminosis, metabolism damage, xerophthalmia, rickets, osteomalacia, stress coping, caused by parasitic or infectious diseases, vaccination, transportation, changes in diet feeding; to enhance immunity.
DOSAGE:
Injected IM, SC, AND IV at a dose (of 1 animal):
Horses, Cattle – 10 -15 ml
Sheep, Goats, Calves, Foals – 5-10 ml;
Lambs – 5 -8 ml
Pigs (body weight up to 10 kg) – 2-3 ml;
Pigs (body weight from 10 up to 20 kg) – 4-5 ml;
Pigs (body weight from 20 up to 50 kg) – 6-7 ml;
Pigs (body weight up to 50 kg) – 8-10 ml.
If it is necessary, repeat the injection in 7-10 days.
CONTRAINDICATIONS:
Do not mix with other medicine.
PRECAUTIONS:
Not established
PACKAGING:
Bottles of dark glass, closed with a rubber cork under an aluminum cap containing 100 ml.
STORAGE:
Store in dry, dark place at the temperature from 15°C till 25°C.
After the first opening of the bottle, if you store it in a cool place at a temperature from 2°C-8°C, it will stay usable for 2 weeks.
FOR VETERINARY USE ONLY!