Injection Solution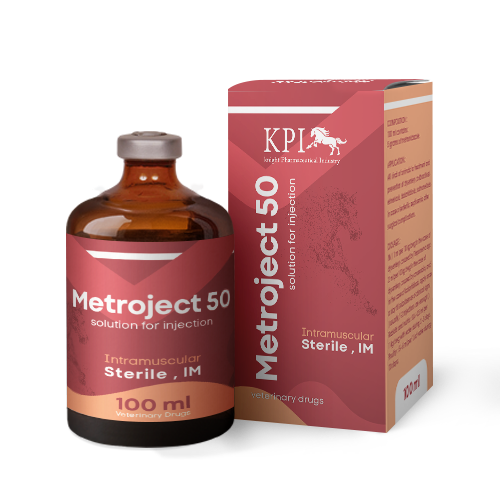 DESCRIPTION:
Colorless or yellowish liquid.
COMPOSITION:
100 ml of the medicine contains:
Metronidazole 5 g.
PHARMACOLOGICAL PROPERTIES:
Metronidazole belongs to the group of nitroimidazoles and exhibits antiprotozoal and bactericidal action. The body is excreted after 48 hours, mainly with urine.
APPLICATION:
All types of animals for the treatment and prevention of dysentery, colibacillosis, ameriosis, balantidiosis, salmonellosis, with enteritis, septicemia, post-surgical complications.
DOSAGE:
Injected as IM intramuscularly in a dose of 1 ml per 10 kg of body weight (5 mg of metronidazole per 1 kg of body weight) for dysentery caused by Treponema spp, 2 ml per 10 kg of body weight for dysentery, the causative agent of which is anaerobic, and also for balantidiosis.
The medicine is administered once a day until the symptoms disappear (usually 1-2 injections are enough).
Rabbits and Nutria medicine is given with a dose of 0.4-0.5 ml per 1 kg of body weight for 2-3 days.
Bird is given orally with a dose of 5-6 ml per 1 liter of water for 10 days.
CONTRAINDICATIONS:
Hypersensitivity to metronidazole.
WARNING:
Do not use simultaneously with alcohol-containing means and in the first third of pregnancy.
STORAGE:
Dry, dark place at the temperature from 5°C to 25°C.
FOR VETERINARY USE ONLY!