Suspension for Intramammary Injection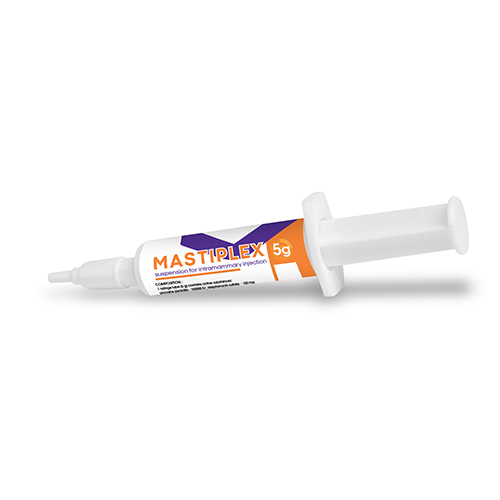 DESCRIPTION :
Oily suspension of white color with a specific smell.
COMPOSITION :
1 syringe tube (5 g) contains active substances:
Procaine penicillin – 100 000 IU;
Streptomycin sulfate – 100 mg;
Neomycin sulfate – 100 mg;
Prednisolone – 10 mg;
Excipients – up to 5 g
PHARMACOLOGICAL CHARACTERISTICS:
Procaine penicillin is a bactericidal antibiotic of the penicillin group, that acts on gram-positive and gram-negative bacteria: Campylobacter spp., Clostridium spp., Corynebacterium spp., Erysipelothrix spp., Actinobacillus spp., Haemophilus spp., Listeria spp., Pasteurella spp., Staphylococcus spp., Streptococcus spp. Its mechanism of action provides violation of peptidoglycan synthesis – mucopeptide of the cell membrane that leads to inhibition of microorganism cell wall synthesis, inhibition of bacteria growth.
Streptomycin sulfate belongs to a subgroup of streptomycin and to a group of natural aminoglycosides and is an antibiotic with bactericidal antimicrobial action type. The substance acts on bacteria that are in the stage of reproduction and somewhat weaker on microbes in the resting stage. The bactericidal action of antibiotics is realized by inhibiting of protein synthesis of microbial cells.
Streptomycin sulfate has antimicrobial activity against many gram-positive and gram-negative bacteria, including acid and penicillin-resistant forms, inhibiting the growth of most bacteria, which belong to the genus Staphylococcus, Streptococcus, Brucella, Klebsiella, Mycobacterium, Neisseria, Pasteurella, Salmonella, Shigella, Haemophilus, etc.
In the center of inflammation under the influence of streptomycin is reduced edema and infiltration, which is accelerated the transition of exudative reaction to productive.
Neomycin sulfate belongs to a neomycin subgroup and to a group of natural aminoglycosides formed by actinomycetes.
Neomycin is an antibiotic with a broad spectrum of antimicrobial activity. It is active against many gram-negative bacteria and cocci (E.coli, genera Salmonella, Shigella, Meningococcus), and gram-positive bacteria (Staphylococcus aureus, Streptococcus agalactiae, Streptococcus dysgalactiae, Enterococcus spp.). The bactericidal action of antibiotics, as well as other members of the aminoglycosides group, is realized by inhibiting of protein synthesis of microbial cells.
Prednisolone is a dehydrated analogue of hydrocortisone. It has properties inherent to other compounds of this group, namely: has anti-inflammatory, anti-allergic and desensitizing effect, antishock and antitoxic properties.
Stimulating steroid receptors, it induces the formation of a special class of proteins – lipocortins that have anti-edema activity and also reduces the activity of hyaluronidase and reduces the permeability of capillaries.
APPLICATION:
Treatment of various forms of mastitis of bacterial etiology during lactation.
DOSAGE:
The syringe tube injected in the share of the affected breast, which is pre-washed, disinfected, and milked.
we should inject the drug directly from the syringe tube slowly into the udder.
After the injection is done, a gentle massage of the affected share of the breast (from top to bottom) for its uniform distribution throughout the udder.
Before the injection we should do the following: *The tube should be heated to a temperature of (35- 38)°C in a water bath and actively shaken in order to obtain a homogeneous mass.
Repeated injections are conducted after milking the cows everyday evening for 3-5 days.

CONTRAINDICATIONS:
Do not use the drug on animals susceptible to penicillin and aminoglycoside group.
PRECAUTIONS:
Meat consumption is allowed in 7 days after the last injection.
Milk consumption is allowed in 108 hours after the last drug application.
Obtained by the deadline meat and milk-fed to unproductive animals or utilize (depending on a conclusion of the doctor of veterinary medicine).
PACKAGING :
Syringes tubes 5 g, packed in a polymeric package.
STORAGE:
Dry, dark, inaccessible to children at a temperature from 15°C to 25°C.
FOR VETERINARY USE ONLY!