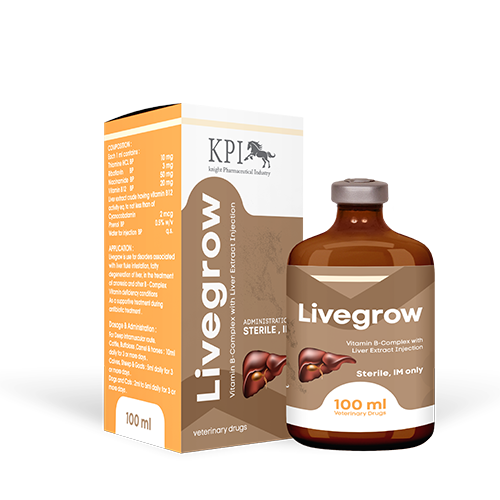 Composition :
Each 1 ml contains :
Thiamine HCL BP 10 mg
Riboflavin BP 3 mg
Niacinamide BP 50 mg
Vitamin B12 BP 20 mg
Liver extract crude having vitamin B12 activity eq. to not less than of
Cyanocobalamin 2 mcg
Phenol BP 0.5% w/v
Water for injection BP q.s.
Application :
Livegrow is use for disorders associated with liver fluke infestation, fatty degeneration of liver, in the treatment of anorexia and other B – Complex Vitamin deficiency conditions
As a supportive treatment during antibiotic treatment .
Dosage & Administration :
For Deep Intramuscular route.
Cattle, Buffaloes, Camel & horses: 10ml daily for 3 or more days.
Calves, Sheep & Goats: 5ml daily for 3 or more days.
Dogs and Cats: 2ml to 5ml daily for 3 or more days.
Withdrawal Times :
Milk : NA / Meat : NA
Packaging :
Glass flasks, closed with rubber cork under aluminium rolling up per 100 ml.
Storage:
Store at room temperature in dark and dry place . Keep out of reach of children .
FOR VETERINARY USE ONLY!