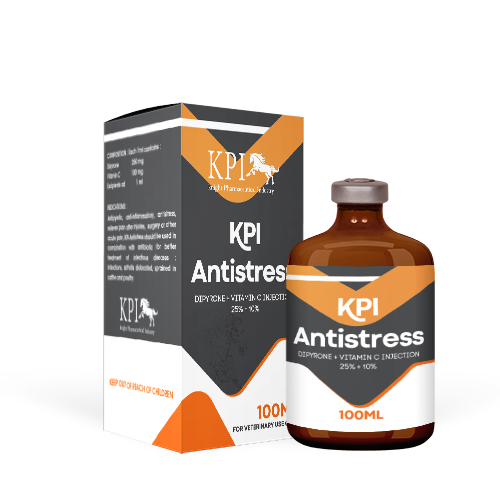 DIPYRONE + VITAMIN C INJECTION %10 + %25
COMPOSITION :
Each ml contains:
Dipyrone………… 250 mg
Vitamin C…………100 mg
Excipients ad…………1 ml
INDICATIONS :
Antipyretic, anti-inflammatory, antistress, relieves pain after injuries, surgery or other acute pain, KPI -Antistress should be used in combination with antibiotic for better treatment of infectious diseases : infections, arthritis dislocated, sprained in cattle and poultry
ADMINISTRATION & DOSAGE :
Cattle, camel :
1 ml/ 15kg body weight/ day. Goat, sheep, dog, cat :
1 ml/ 8 – 10kg body weight/ day.
Poultry : 1 ml/ 5-6 kg body weight/ day or 5 ml/ 2-3 liters of water/ day. By intramuscular (I.M) or Intravenous (slowly) injection .
Twice a day until signs of symptom disappear.
STORAGE:
Store in shade and dry place temperature below 30 °C .
For veterinary use only