Oral Emulsion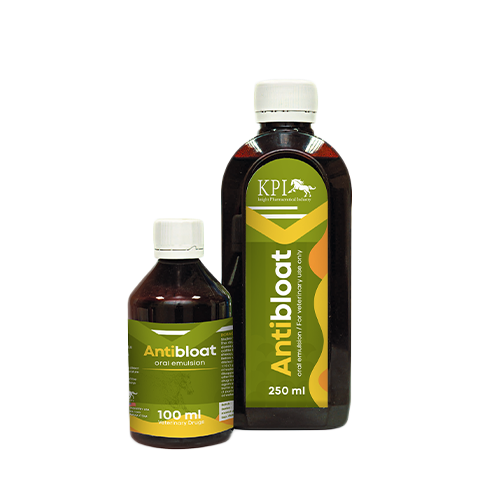 DESCRIPTION :
Homogeneous emulsion from green to brown color with a slight specific odor of mixture components. Sediment is allowed.
COMPOSITION :
100 ml contains active substances (ml):
Hellebore tincture – 3,5;
Antifoam (simethicone) – 3,0;
Lactic acid – 3,0;
Wormwood tincture – 2,5;
Hypericum tincture – 3,5;
PHARMACOLOGICAL CHARACTERISTICS :
The drug is injected inside an animal, prevents flatulence in the digestive canal, destroys gas bubbles formed in feed masses, and provides fast removal of them from the organism; has antiseptic and ruminal effects; increases peristalsis reduces the tone of the stomach sphincter and proventriculus of ruminants.
APPLICATION :
Treatment of cattle, goats, and sheep in case of acute course of foamy tympany and treatment of horses in case of intestinal flatulence. To cattle, horses, goats, sheep drug set inside with a rubber bottle or through esophageal probe directly into the cavity. Is possible the injection into the cavity by piercing of the abdominal wall by trocar or needle for injection.
To horses drug is injected through the esophageal tube.
DOSAGE :
Before application bottle with drug is necessary to shake!
The drug is used orally at doses (ml per 10 kg of body weight):
Cattle – 4-5; Horses – 4-5; Sheep, goats – 5-10.
Before application of the drug, the emulsion is diluted with water in a ratio of 1:10 (1 part of drug per 10 parts of water).
If symptoms do not disappear within 15-20 minutes after the application, the drug is injected into an animal again in the above doses, but in a dilution of 1:5 (1 part drug per 5 parts of water).
Application of the drug does not preclude the simultaneous application of other drugs or agents, except ruminal.
CONTRAINDICATIONS :
Hypersensitivity to the components of the drug.
Do not use to other animals.
Do not use it in conjunction with other ruminal drugs.
PRECAUTIONS :
Do not use to weak, exhausted, and sick, particularly on infectious diseases animals.
PACKAGING:
Glass or polymeric bottles 100; 250; 500; 1000 ml.
STORAGE:
In a dry, protected from direct sunlight place at a temperature from 1°C to 35°C.
Do not store together with food, beverages and animal feeds.
Keep in a place inaccessible to children.
FOR VETERINARY USE ONLY!