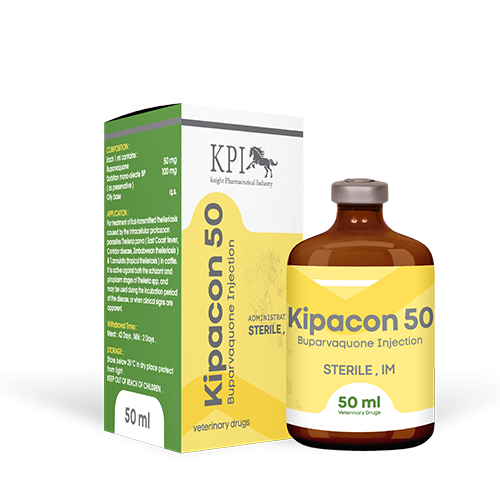 Composition :
1 ml of product contains active agent :
Buparvaquone 50 mg
Sorbitan mono-oleate BP 100 mg
Oily base q.s.
Application :
For treatment of tick-transmitted theileriosis caused by the intracellular protozoan parasites Theileria parva ( East Coast fever, Corridor disease, Zimbabwean theileriosis ) & T.annulata (tropical theileriosis ) in cattle.
It is active against both the schizont and piroplasm stages of Theileria spp, and may be used during the incubation period of the disease, or when clinical signs are apparent.
Dosage & Administration :
For intramuscular injection.
The general dosage is 1ml per 20kg of BWG.
In severe cases the treatment may be repeated within 72 – 48 hours .
Do not administer more than 10 ml per injection site.
Successive injections should be administered at different sites.
Withdrawal Times :
Meat : 42 Days ,
Milk : 2 Days .
After the last administration .
Packaging :
Glass flasks, closed with rubber cork under aluminium cap rolling up per 50 ml.
Storage:
Store below 25°C in dry place protect from direct sunlight .
Keep out of reach of children .
FOR VETERINARY USE ONLY!