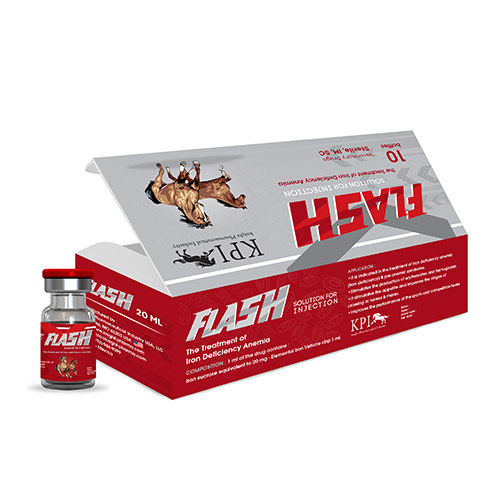 COMPOSITION:
1 ml of the drug contains:
Iron sucrose equivalent to 20 mg Elemental iron
Excipients ad 1ml
APPLICATION:
It is indicated in the treatment of iron deficiency anemia (iron deficiency) & pre-anemic syndrome.
Stimulates the production of erythrocytes and hemoglobin.
It stimulates the appetite and improves the stages of crossing in horses & mares.
Improves the performance of the sports and competition horse
DOSAGE AND ROUTE OF ADMINISTRATION:
Foals after weaning: 400 mg total I.V. equivalent to 20 mL per animal.
Horses from 200 to 400 kg: 400 mg total every third day (4 – 6 times), equivalent to 20 mL per animal up to
a total of 80 to 120 mL per treatment .
Horses over 400 kg : 400 mg total per day for 10 days equivalent to 20 ml per animal or 1000 mg total every
third day 4 applications equivalent to 50 mL per animal up to a total of 200 mL.
HOW SUPPLIED:
10 glass bottles with Aluminum cap capacity 20 ml, packed into paper boxes.
STORAGE:
Dry, childproof, light-proof place at temperature from 5°C to 25°C, apart from food products, animal feeds, heating devices and open fire.
FOR VETERINARY USE ONLY!