Ointment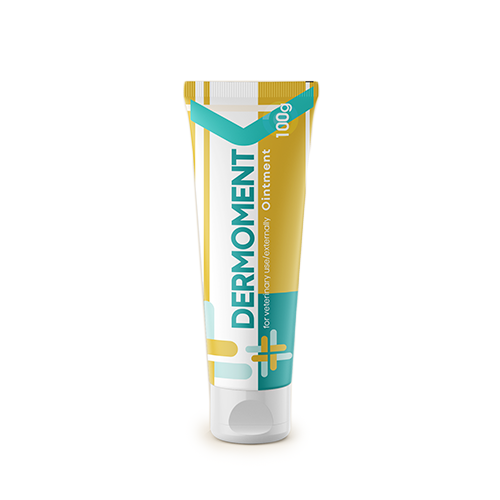 DESCRIPTION :
Ointment of pastelike consistency of dark gray color with a brown tinge and specific smell.
COMPOSITION :
1 g of the drug contains active substances (mg):
salicylic acid – 50.0;
precipitated sulfur – 100.0;
zinc oxide – 100.0;
birch tar – 50.0;
Turpentine oil – 75.0;
ichthyol – 50.0.
PHARMACOLOGICAL CHARACTERISTICS :
Dermoment has strong fungicidal and bactericidal actions that caused by synergic properties of the components. Ointment base promotes penetration of active components of the drug into the skin, where they destroy the pathogens present throughout the thickness of the lesion.
APPLICATION :
Externally for complex treatment of cattle, horses, goats, pigs, dogs, and cats suffering from microsporia, trichophytosis (ringworm), dermatophilosis, hoof lesions, necrobacillosis, ulcerative pododermatitis, myositis, eczema, ulcers, rheumatic myositis, dermatitis, dermatosis.
DOSAGE :
Externally. The ointment is applied with a thin layer on the affected area of skin and 3 cm around without previous removal of scaly crusts and hair trimming. The drug is slightly rubbed into the skin by hand in a rubber glove. Affected areas are treated 1-2 times a day for 4-5 days. After 7-10 days, the affected skin is exempted from the scaly crusts, on them appears hair, disappear clinical signs of disease.
CONTRAINDICATIONS :
Do not apply to animals with increased individual sensitivity (allergy) to the drug, sickly, and exhausted.
PRECAUTIONS :
In case of application of the drug on the cats, skin prevents lick off.
The ointment is incompatible with a strong oxidizer (potassium permanganate, etc.).
PACKAGING:
Polymeric containers containing 20, 50, 100, 200, laminated tubes 50, 100, and 200 g
STORAGE :
Dry, dark, well-ventilated place on the shelves at a temperature from 2°C to 25°C.
Do not store together with food.
FOR VETERINARY USE ONLY!