Vitamin Tablets for Puppies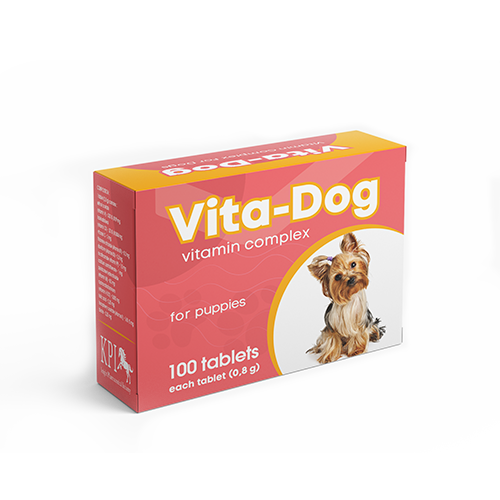 DESCRIPTION :
. Flat cylindrical tablets of white or light
yellow color.
COMPOSITION :
1 tablet (0,8 r) contains:
Retinol acetate (vitamin A) – 300 IU /0,09 mg
Holekaltsiferol (vitamin D3) – 20 IU /0,0004 mg
Vitamin C – 3 mg
Thiamine chloride (vitamin B1) – 0,3 mg
Riboflavin (vitamin B2) – 0,3 mg
Nicotinamide (vitamin PP) – 1,5 mg
Calcium pantothenate – 1 mg
Pyridoxine hydrochloride (vitamin B6) – 0,3 mg
Cyanocobalaminum (vitamin H B12) – 0,005 mg
Folic acid – 0,25 mg
Tocopheryl acetate (vitamin E) – 5 IU /5 mg
Biotin – 0,25 mg
APPLICATION:
Vita-Dog is a vitamin complex action which is determined by the properties of bioactive components that actively affect different functions of the body of the puppies: and regulate energy metabolism, normalize all organs and systems, normalize all organs and systems, prevent the development of pathologies, enhance resistance to infections, adaptations to stress.
The application of the medicine provides prevention of vitamin deficiency, improves metabolism and systemic physiological state, stimulation the growth of young animals, prevention of rickets and osteodystrophy, improves the functions of the skin and hair coat quality.
DOSAGE:
Puppies which has body weight up to 8 kg orally with food or directly to the root of the tongue 1 tablet once a day.
The recommended application rate vitamin complex – 1 month.
CONTRAINDICATIONS:
Do not apply to animals with individual hypersensitivity to components of the medicine and animals up to 6 weeks age.
PRECAUTIONS:
In case of overdose stomach lavage and intake of absorbent carbon are obligated.
PACKAGING :
The blister pack 10 tablets, 100 tablets in a carton box.
STORAGE:
Store in a dry, dark warehouse at a temperature up to 25°C.
Keep out of children's reach.
Do not store together with feed.
FOR VETERINARY USE ONLY!