Injection Solution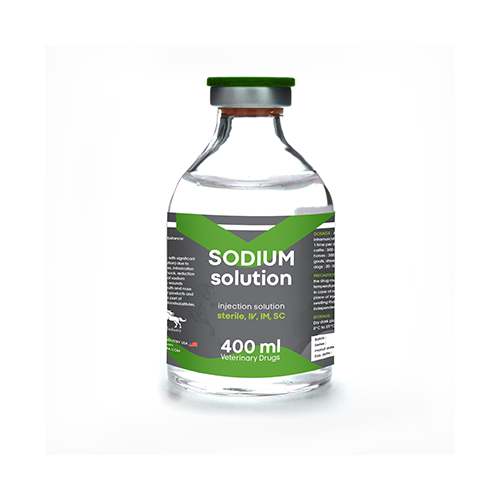 DESCRIPTION:
Clear colorless solution.
COMPOSITION:
100 ml contains an active substance:
Sodium chloride – 0.9 g
PHARMACOLOGICAL CHARACTERISTICS:
It is an isotonic solution that normalizes disturbed fluid and electrolyte homeostasis in case of a decrease of the volume of fluid in the body, maintains and regulates the osmotic processes and fluid content, replenishes sodium deficiency in various pathological conditions, has detoxification and rehydration actions. The solution is isotonic to blood plasma and is rapidly excreted from the vasculature, temporarily increasing the volume of circulating blood. The drug is excreted from the body by the kidneys
APPLICATION:
The drug is used in animals with significant loss of body fluids (dehydration) due to diarrhea of various etiologies, intoxication, after surgery, in a state of shock, reduction of blood pressure. the Isotonic solution is used for washing wounds, mucous membranes of mouth and nose, dry dissolution of biological products, and veterinary drugs. The drug is part of rehydration solutions and blood substitutes.
DOSAGE:
Apply intravenously, intramuscularly, subcutaneously 1 time per day at doses (ml per animal):
Cattle – 500-3000;
Horses – 300-2500;
Goats, Sheep, Pigs – 100-500;
Dogs – 20-100.
CONTRAINDICATIONS:
Hyponatremia, acidosis, hyperchloremia, hypoglycemia, extracellular hyperhydration, intracellular dehydration, cerebral edema, pulmonary edema, and circulatory disorders, threatening of swelling the brain and lungs.
Use with caution with renal or cordial insufficiency, oliguria, anuria.
SIDE EFFECT:
The injection of large amounts of the drug can lead to the development of acidosis, aggravate the condition of an animal with brain and lung edema
PRECAUTIONS:
Before application, the drug must be heated to the body temperature of the animal.
In the case of subcutaneous injection in place of injection is possible slight swelling that disappears independently after 2-3 hours.
PACKAGING:
Solution in glass ampoules 5 and 10 ml glass bottles 200 and 400 ml.
STORAGE:
Dry dark place at a temperature from 0°C to 25°C.
FOR VETERINARY USE ONLY!