Powder for Injection Suspension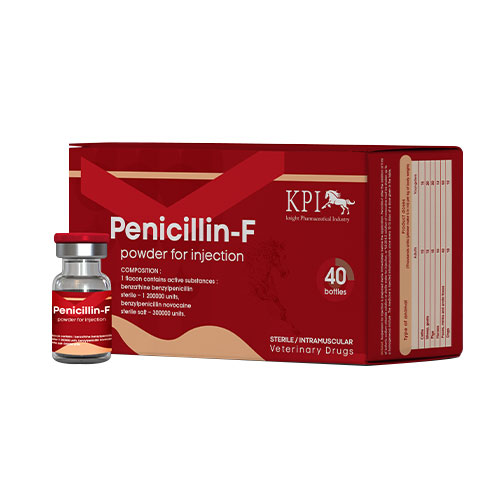 DESCRIPTION:
The powder is white or white with a slightly yellowish tint.
COMPOSITION:
1 flacon contains active substances:
Benzathine benzylpenicillin, sterile – 1 200000 units,
Benzylpenicillin novocaine , sterile salt – 300000 units.
PHARMACOLOGICAL CHARACTERISTICS:
Penicillin-F is a bactericidal antibiotic that belongs to the group of penicillins, which are sensitive to the action of β-lactamases. The medicine inhibits the formation of peptide bonds by inhibiting of transpeptidase, violates the later stages of peptidoglycan synthesis of the cell membrane, leading to lysis of cells that divide.
Penicillin-F is active against gram-positive bacteria, including Streptococcus spp. (including Streptococcus pneumonia), Staphylococcus spp. (except penicillinase-producing), Bacillus spp., lister (L. monocytogenes), erysipelothrix (E. rhusiopathiae), most corynebacteria, and anaerobic bacteria (actinomycetes, Peptostreptococcus spp., Clostridium spp.), spirochetes (Treponema spp., Borrelia spp., Leptospira spp.). Most gram-negative bacteria, protozoa, viruses, fungi, and rickettsia are not sensitive to the medicine. Since gram-negative bacteria are sensitive to the drug only Neisseria spp., Pasteurella multocida, H. dugreyi.
APPLICATION:
Treatment of cattle, sheep, goats, pigs, horses, foxes, minks, and dogs suffering from necrobacillosis, pasteurellosis, pneumonia, mastitis, metritis, wound infection, otitis media, septicemia, cellulitis; actinomycosis, blackleg; streptococcal septicemia of cattle, sheep, and goats; horses strangles, stachybotryotoxicosis, streptococcosis, staphylococcus, infectious stomatitis, rhinitis, the plague of dogs and fur animals, swine erysipelas, and in diseases of the urinary tract, caused by micro-organisms sensitive to benzylpenicillin.
DOSAGE:
Penicillin-F Suspension prepared for injection in sterile condition immediately before the application, after we add 9 ml of isotonic sodium chloride solution or sterile water for injection or 0.25-0.5% solution of novocaine. Penicillin-F must be shaken up to a homogeneous mixture. The medicine is injected intramuscularly once every 10-15 days at a dose given in the table

CONTRAINDICATIONS:
Hypersensitivity to agents of the penicillin or novocaine group.
Do not apply to guinea pigs and hamsters.
PRECAUTIONS:
Before the application of the medicine a preliminary intradermal test for tolerability should be done!
Penicillin-F is injected only intramuscularly!
Intravenous injection is forbidden!
Penicillin-F Suspension prepared for injection in sterile condition immediately before the application.
Meat and Milk consumption is allowed, respectively, in 20 days and 10 days after the last applications.
Received by the deadline meat and milk utilize or feed to unproductive animals, according to a conclusion of the doctor of veterinary medicine.
Do not mix Penicillin-F solution with other injectable solutions.
In case of an application with bactericidal antibiotics (including cephalosporins, cycloserine, vancomycin, rifampicin, aminoglycosides) synergistic effects are observed; with bacteriostatic antibiotics (including macrolides, chloramphenicol, lincosamides, tetracycline) antagonism.
Not recommended to combine with non-steroidal and anti-inflammatory drugs.
Benzylpenicillin reduces clearance and increases the toxicity of methotrexate.
PACKAGING :
Bottles glass, closed by a rubber stopper under an aluminum cap, per 1 500000 UNITS.
STORAGE:
Dry, dark, unreachable for children place at a temperature from 5°C to 25°C.
Store the medicine separately from food, drinks, including the animal feed.
FOR VETERINARY USE ONLY!