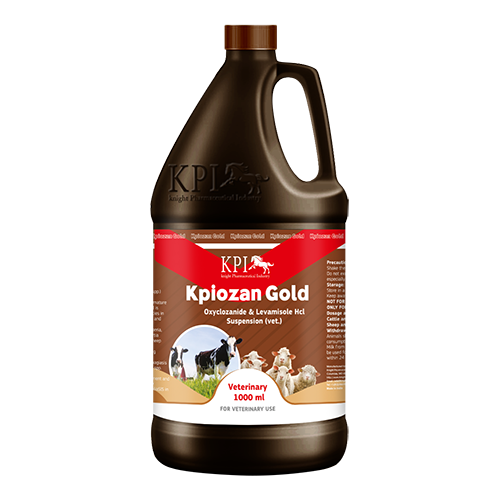 COMPOSITION:
Each ml contains:
Oxyclozanide B.P. : 60 mg
Levamisole HCL S.P. : 30 mg
APPLICATION:
It removes practically all flukes (Fasciola spp.) present in the bile ducts. It removes the mature and developing immature stages of a wide range of nematodes and is highly effective against the following species in the abomasum, Haemonchus, Ostertagi'a, and Trichostrongylus spp.
In the Intestines: Trichostrongylus. Cooperia, Nematodirus. Oesophagostomum, Chabertiaand Bunostomum spp. Also effective in Sheep against adult Strongyloides spp.
In the lungs: Dictyooaulus spp., including inhibited D. viviparus larvae in cattle are effective in the treatment of Type ll ostenagiasis and In Sheep against inhibited ostertagia spp.
INDICATIONS:
KPIOZAN GOLD IS indicated for the treatment and control of gastrointestinal and pulmonary nematode infestation and chronic IasctoliaSlS in Calle, Sheep, Gual ti Ceslodes in Sheep.
PRECAUTIONS & WARNINGS:
Shake the bottle well before use.
Do not exceed the recommended dose, especially during the early stage of pregnancy.
DOSAGE AND ROUTE OF ADMINISTRATION
Cattle and Calves: 2.5 ml per 10 kg body weight.
Sheep and Goats: 1 ml per 4 kg body weight.
WITHDRAWAL PERIOD:
Animals should not be slaughtered for human consumption within 14 days of treatment.
Milk from lactating animals should not be used for human consumption within 24 hours of treatment
STORAGE:
Store in a cool place. Keep away from direct sunlight.
FOR VETERINARY USE ONLY!