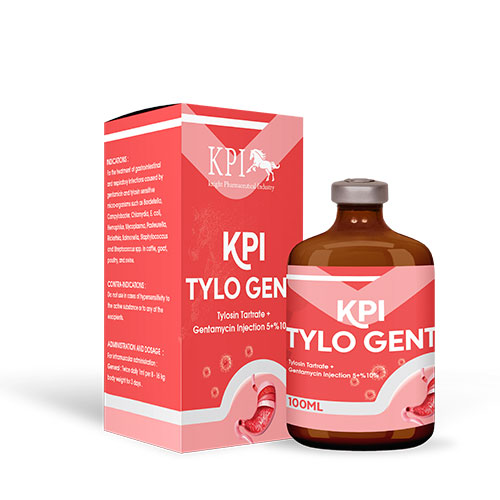 Tylosin Tartrate + Gentamycin Injection 10%+5%
COMPOSITION:
Each ml contains:
Tylosin Tartrate…………….100mg
Gentamycin…………….50mg
Excipients ad:1ml
INDICATIONS:
For the treatment of gastrointestinal and respiratory infections caused by gentamicin and tylosin sensitive micro-organisms such as Bordetella, Campylobacter, Chlamydia, E. coli, Hemophilus, Mycoplasma, Pasteurella, Rickettsia, Salmonella, Staphylococcus and Streptococcus spp. in cattle, goat, poultry, and swine.
ADMINISTRATION AND DOSAGE:
For intramuscular administration:
General: Twice daily 1ml per 8-16kg body weight for 3days.
CONTRA-INDICATIONS:
Do not use in cases of hypersensitivity to the active substance or to any of the excipients.
STORAGE AND SHELF LIFE:
Store below 25degree centigrade, in a cool and dry place and protect from light.