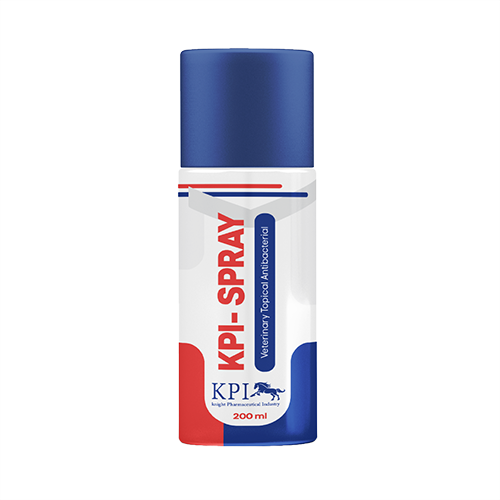 Veterinary Topical Antibacterial
COMPOSITION :
Each tin bottle contains :
Oxytetracycline 4,5g
Vitamin A 200 g
Zinc oxide 1.5 g
APPLICATION :
Oxytetracyclineis a tetracycline group of antibacterial.Shows activity against most of the Gram positive ,Gram negative and anaerobic bacteriae. Oxytetracycline acts locally (topical) since it is not absorbed from the skin.
Treatment of skin, mammary and foot infections (FMD , foot-rot, panaritium , pink eye lesions and protection of the operational area disinfection of umblical cord) caused by bacteria sensitive to Oxytetracycline .
CONTRA-INDICATIONS : Not known .
DRUG INTERACTIONS : Not described .
ADVERSE REACTIONS (FREQUENCY AND SERIOUSNESS) :
May cause local irritation in hypersensitive animals .
DOSAGE AND ADMINISTRATION :
Cutaneous Administration. Shake the container thoroughly before spraying . Spray on to the infected area to cover whole, from a distance of 20 cm. administer every 6 to12 hours until improvement occurs or for a maximum of 6 applications .
STORAGE :
Store below 30 °C and protect from sunlight and heat sources .