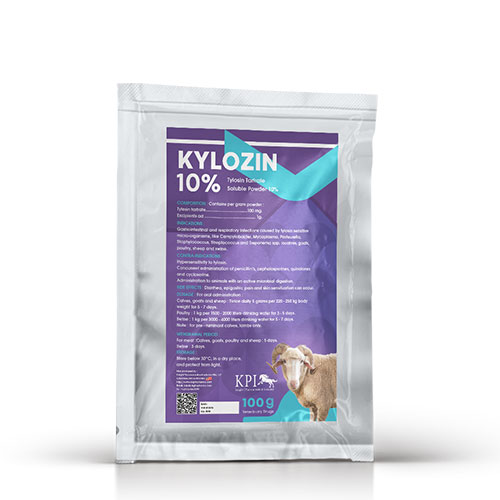 Tylosin Tartrate Soluble Powder 10%
Composition:
Contains per gram powder:
Tylosin tartrate: 100 mg.
Excipients ad: 1g.
INDICATIONS:
Gastrointestinal and respiratory infections caused by tylosin sensitive micro-organisms, like Campylobacter, Mycoplasma, Pasteurella, Staphylococcus, Streptococcus and Treponema spp. incalves, goats, poultry, sheep and swine.
CONTRA-INDICATIONS:
Hypersensitivity to tylosin.
Concurrent administration of penicillin's, cephalosporines, quinolones and cycloserine.
Administration to animals with an active microbial digestion.
SIDE EFFECTS:
Diarrhea, epigastric pain and skin sensitization can occur.
DOSAGE:
For oral administration:
Calves, goats and sheep: Twice daily 5 grams per 220 – 250 kg body weight for 5 – 7 days.
Poultry: 1 kg per 1500 – 2000 liters drinking water for 3 – 5 days.
Swine: 1 kg per 3000 – 4000 liters drinking water for 5 – 7 days.
Note: for pre-ruminant calves, lambs only.
WITHDRAWAL TIMES:
– For meat:
Calves, goats, poultry and sheep: 5 days.
Swine: 3 days.