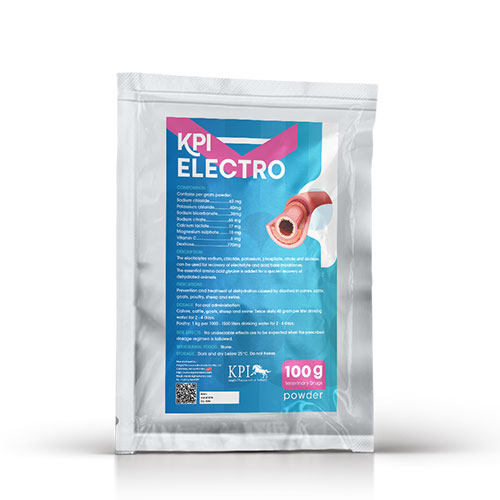 KPI ELECTRO POWDER (100G)
COMPOSITION:
Contains per gram powder:
Sodium chloride…………….62 mg
Potassium chloride…………40mg
Sodium bicarbonate……….30mg
Sodium citrate………………..65 mg
Calcium lactate……………….17 mg
Magnesium sulphate……..10 mg
Vitamin C…………………………..6 mg
Dextrose…………………………..770mg
DESCRIPTION:
The electrolytes sodium, chloride, potassium, phosphate, citrate and dextrose can be used for recovery of electrolyte and acid/base imbalances. The essential amino acid glycine is added for a quicker recovery of dehydrated animals.
INDICATIONS:
Prevention and treatment of dehydration caused by diarrhea in calves, cattle, goats, poultry, sheep and swine.
DOSAGE:
For oral administration:
Calves, cattle, goats, sheep and swine: Twice daily 40 gram per liter drinking water
For 2 – 4 days.
Poultry: 1 kg per 1000 – 1500 liters drinking water for 2 – 4 days.
SIDE EFFECTS:
No undesirable effects are to be expected when the prescribed dosage regimen is followed.
WITHDRAWAL PERIOD:
None.
STORAGE:
Dark and dry below 25℃.